Wedding Flowers How To by Myra Perez of My Violet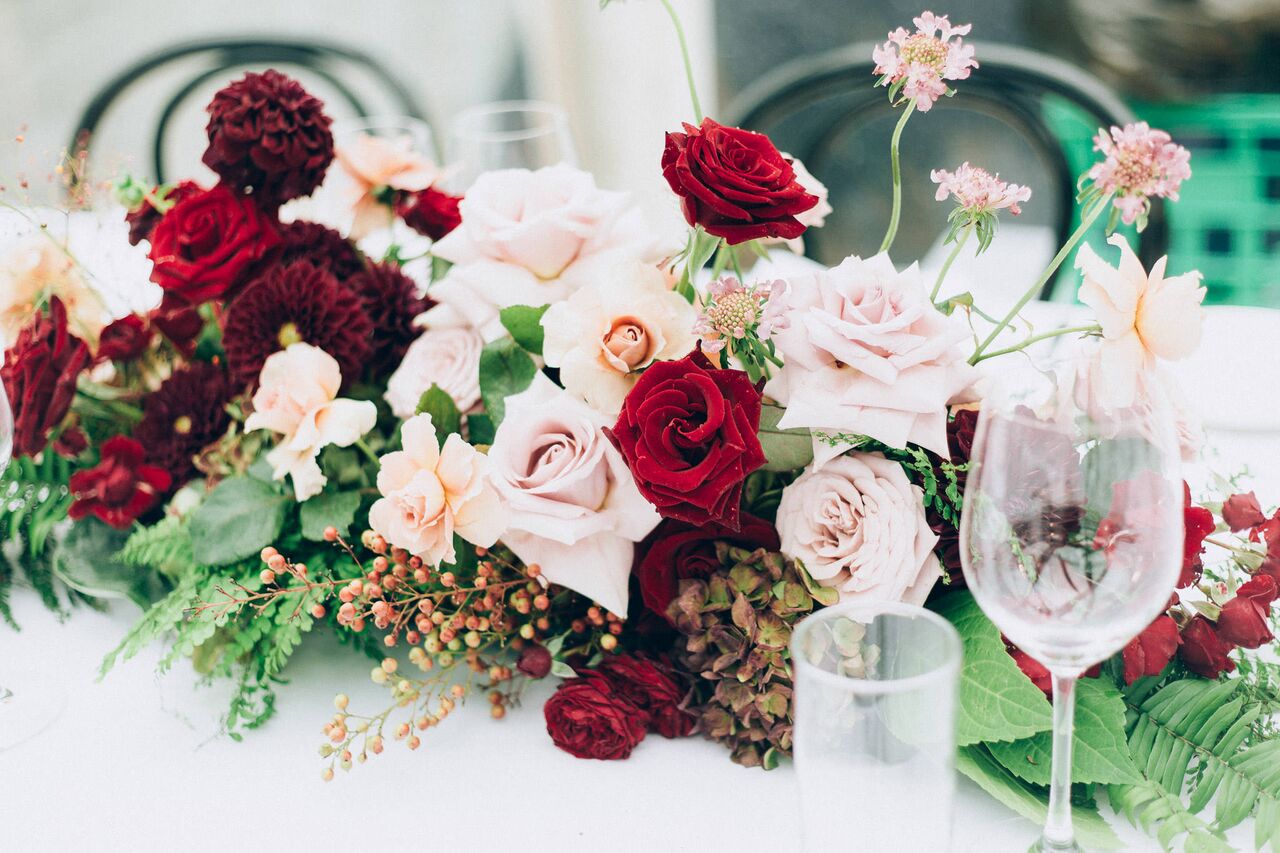 This month we had the pleasure of speaking with the very in demand and incredibly creative Myra Perez from My Violet.
Myra is the go to for fashionistas and celebrities when they need a floral creation for their events, homes or loved ones. Her clients include Tash Sefton, Vogue, ERDEM X H&M, Moet, Marie Claire and the list goes on.
She has an exceptional eye for colour, often creating bright and bold arrangemnts that leave you speechless. Myra is also not afraid of using unexpected combinations or blooms to make each arrangement special and unique.
I had the pleasure of working with Myra for my wedding and also during my time at VOGUE Australia. She is wonderful for weddings as she listens closely to the client and then elevates their ideas with her vast expertise.
Who better than Myra for insight into wedding flowers?
Myra, what are the most popular types of flowers in wedding flowers?
At the moment, I'd have to say garden roses and phalaenopsis orchids.
Which seasons are they available in?
Garden roses have two flushes, from mid October and if mother nature is kind, will stick around until May. Orchids these days are available all year round, especially now with imported dyed ones becoming so popular.

Are flowers available at all even if they aren't in season?
Out of season flowers are achievable, however often as these are imported from Europe or Asia they tend to be almost triple the standard price.

I do my best to use in season local blooms as imports are generally not the best quality. They've gone on a long journey to get here. Plus I like to support the Australian growers where possible.
How frequently do girls opt for flowers matching their colour palette versus an opposite complimentary one?
To be honest, a lot of time they ask for my opinion within the venue they have chosen. So I begin to break it down by asking to see the invitation. It's usually a good guide to their colour preference.

If they had their heart set on pastels all the way, I will work within it but if I can mix it up with another different hue I will. It's about working with your surroundings and making it work. Also, trusting the suppliers who are creating for you on the day. You might love nude tones but we might suggest it will get lost against the backdrop on the day. It pays to listen to our advice!

Do people choose to use just one type of flower often? If so which flower is most effective?
Often I find they prefer to give me a selection of flowers they like as it's difficult to be so selective with flowers. The seasons are always changing and dealing with mother nature can be tricky. I like to have as many options rather than stressing about one variety that "has to happen."

Tell us about the most exotic flowers you work with?
Phalenopsis orchids shipped in from South East Asia and Japan are my weakness. They come in all varieties and the dyed ones at the moment seem to especicially be a huge favourite.
Other than the orchid, it can be great to mix in exotic fruits , foliages and large branches to bring a brief to life.

How much time generally do you need to set up for a wedding on the day of the event?
It all varies depending on what is required to create. It can be 6 hours from the bride's arrival to a whole day if it's a large hanging installation. Often there is huge amount of preparation in the days beforehand.

How many meetings generally do you have with the bride before the big day?
I like to keep it to 2. An initial meeting to discuss it all, then a final one to confirm everything.

Do people do practice or rehearsal flowers before the actual wedding?
No, never for me. Occasionally I will mock up a table centre but this is quite rare.
In regards to table flowers what styles are popular?
The trend at the moment and this year past is oasis arrangements. Last year it was individual vases.
I do love a clean glass vase look, but I'm finding the oasis look is so popular to avoid the vases pack down at the end of the event. That way also guests can take home the arrangements with them after the wedding has finished.
How can a bride preserve her flowers after the big day?
There are professional business who dry your bouquets and frame them, otherwise I would suggest to keep it up side down in a dark room to avoid any moisture and it getting mouldy. But to be honest, not that many things dry nicely. It's a bit of an outdated trend. I think pressing a single bloom in the guest book is a nice idea.

How much notice should a bride book their florist within?
6 months is best to ensure they have the time slot available, but the initial flower consultation doesn't need to be so far out. In fact, closer to the date is ideal as we will know what's in season.
You can view more about Myra and her work
Want to get more insider info? Read more TBS Wedding Insider Posts HERE